In the midst of a recent browse of the internet, BnB Edition came across this wonderful blog on how to make the perfect bed – or at least one so smooth you can 'bounce a quarter off it'.
The theme of the post – coming from a blog entitled 'The Art of Manliness' – is all about the soldier way to do it, but we reckon that if it saves time and looks impressive, there's no reason B&B owners shouldn't adopt that military style, too.
Here's how:
1. Spread the bottom sheet
2. The Hospital Corner…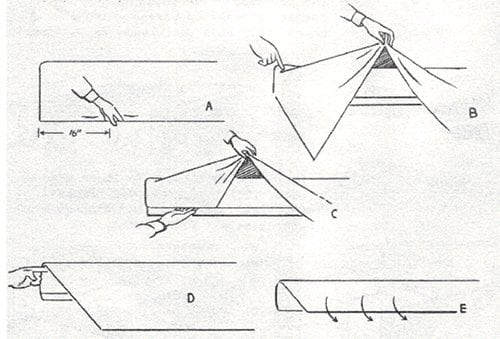 3. Spread the top sheet
4. Spread the blanket
5. Make hospital corners with the sheet and blanket
6. Fold the top of the blanket and sheet down
7. Comforters…. Most people use nice cosy duvets on top – but this won't let you bounce a coin off it!
Need more? Read the full article here…
How to Do It in Less Than a Minute
All that sounds like a lot of work when you've got a whole bed and breakfast to do… but actually, the best way to make a bed fast is whilst lying in it! It's much easier to straighten the covers out from the centre, rather than standing at the side and walking around and around to reach each corner.
No related posts.
Category: Practical Tips